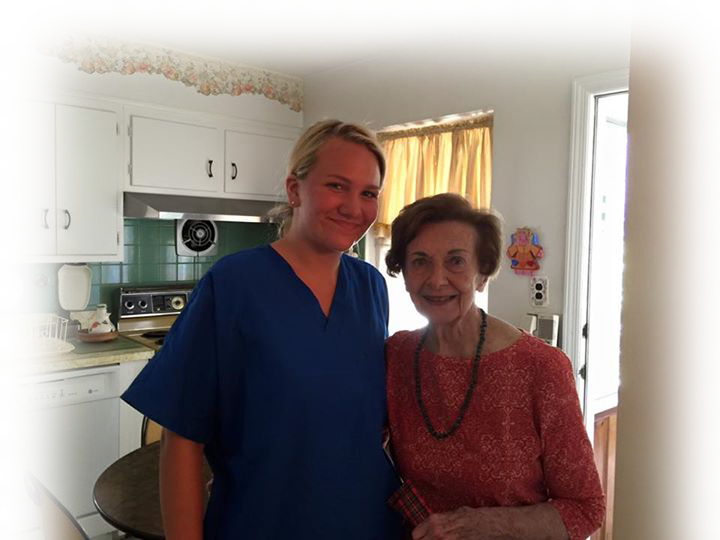 Caroline D'Antonio / Amityville
"I was recommended To Billy of Home Comfort Assistance on Wednesday August 6,2014 by a good Friend.My Husband was bedridden and critically ill at home.I already had bad experiences with two other Home Care Agency's. My Husband's Health was going from bad to worse and taking a toll on me as his primary caregiver. My Husband was rail thin weighing 98lbs and was very weak. Billy came to my Home to asses the situation. He reassured me that under his oversight the situation would drastically change with a new plan of action.Within days,I had two of the most caring,knowledgeable Home Health Aides at the ready.Together with Home Comfort Assistance Inc. and my Husbands Doctors the unimaginable began to happen.Everyday he seemed to be eating more and gaining weight at a slow pace. Our Aides started to get him out of the Hospital Bed for short periods of time.A few weeks later they would take walks around the house,while standing by his side.Soon after, the Hospital bed was history and Dave was able to rid himself of all Home Medical Devices and live a normal life. Dave now weighs 126 lbs and eliminated the pain medication and is a full functioning senior.This is nothing short of a Miracle.A planned move from our home to another still took place although a little delayed. Our Home Health Aides were instrumental in the move and was a seamless transition. Dave now leads a good quality of life and participates in many social functions outside his new home with the help of his aides.I would highly recommend Billy Alba and his Company Home Comfort Assistance Inc. Billy and his Home Health Aides are real life changers."
Mary Beth Borman
"This company was born from Love. The Love of a Son for His Mother. Who better would know this than a Gentle Man who was there at his Mother's side until the very end. Of course, it was heart breaking; I also lived it. However, this Gentle Man, in honor of His Mother, took what he knew, and in honor of his Mother, and to rid as much heartache, went to work and created this wonderful and professional company. What a relief in that I can fully endorse this Gentle Man's company. There are so many, care giving businesses out there, however, they are not all alike. Trust in me when I say this as I personally went through this with both my Parents. It was terribly disconcerting to have to fire caregivers and ask that they leave my home. They seem to forget that our Parents are our Parents, to be treated with the same respect and dignity we show them. How dare a stranger come into our homes and disrespect our most treasured Loved Ones… Just because they are ill, does not mean they should be treated as less. This it why I am so passionate about Home Comfort Assistance. When you are in need for the best Caregivers next to you, I strongly endorse this very safe, professional, compassionate, caregiving company. Home comfort assistance– it's in the title."
Eileen and Eugene Lennon / Massapequa Park
"I have been a client of Home Comfort Assistance for over a year and a half. Thanks to Billy Alba he has a very reliable, compassionate staff. He helps you when there is a problem or otherwise. He always checks up on us at least twice a week. We would never hesitate to call him for any problems that might arise.He has the best companions in the world. I would highly recommend Home Comfort Assistance to anyone in need of home care as my husband and I age in the comfort of our home of 55 years."
Cynthia Lennon
"My name is Cynthia Lennon and my parents have used Billy Alba's agency for approximately a year and a half. I live in Ohio and Billy provides personal contact with my parents, which they enjoy and which puts my mind at ease. The aides are stupendous. They are hardworking, but most importantly they are kind and loving. My father has Alzheimers and my mother is basically immobile. My parents are happy and able to stay in their own home. Without the help of this agency, this would not occur. The cost of the aides is less than a nursing home. I would highly recommend this agency."
The Lehmbeck-Todaro Family
"When our mother, a stroke survivor paralyzed on her left side was returning home from rehabilitation needing 24 hr care, we interviewed many agencies and decided to choose Home Comfort Assistance. It was Billy's reassuring manner and promise that he would be around to oversee and help with any challenges that may arise with her home care that made us feel this is unlike any other agency we had interviewed or had heard about from family and friends. Because of his own personal experience with a loved one's needs and how difficult it is to find competent, compassionate care, he goes the extra mile to give families peace of mind. He personally matches caregivers according to the level of skills needed. Our situation was a very difficult one and we are happy to say our mother has been comfortably home in her own surroundings, as she had wished, for the past year and a half and we have seen much improvement. The caregivers supply the physical, emotional, and spiritual support that a facility cannot and Billy offers hands on support that is priceless. We highly recommend Home Comfort Assistance for your loved one."
Virginia Wilmer
"Have used this agency for both day and overnight coverage, both alone and with family present. The caregivers assigned are caring and dependable, supporting both the patient and family's emotional as well as physical needs. The personal hands-on oversight of the agency gives family members peace of mind knowing their loved one will be cared for with dignity and respect."
Anna Barricelle
"My mother has been using the services of Home Comfort Assistance for over a year now & the care she receives is second to none. Her live in aide is extremely passionate, kind and sensitive to my Mother's every need. When my mother is up all night in pain, her aide sits at her bedside all night and comforts her. My mom and Billy Alba's mom were best of friends for over 30 years. Billy treats my mom as if she were his own. Through the loss of his own loving mom & seeing first hand what kind of care we all want for our loved ones, he accomplished just that. His objective is to make sure all his clients are treated the way he wanted his own mother treated. He personally stops by weekly to see his clients to make sure they are happy and being well taken care of. If there are any difficulties, Billy will address them immediately and get the situation resolved. As my mother's primary caregiver, I feel safe that Home Comfort Assistance is giving her the dignity and quality of life she deserves & they are providing her with the blessing that she can live in the comfort of her own home with her family by her side. Billy will treat your loved one like his own. He is extremely compassionate to the needs of our loved ones and to our needs as caregivers. If you want your loved one to be well taken care of and their every need met, then there is no question that you want Home Comfort Assistance on your side"
Margaret Paar
"I couldn't be as so secure and comfortable without Home Comfort Assistance Inc. My friend who uses Home Comfort Assistance recommended I give them a call. After spending 5 weeks in the hospital and at 86 years old I was very unstable on my feet. I knew I needed all around help.I heard very good things about Billy Alba and how he runs a hands on company. His companion Peggy came into my life helping me every which way I asked her. Because of Home Comfort Assistance thank God I am getting stronger every day. Peggy is everything and more than I ever expected. I would also recommend this company anytime. I have a stack of business cards and brochures that I can give all my friends."
Maryanne Caporale
"My name is Maryann Caporale I live in Bellmore. It was my lucky day when I contacted Billy. Such a comfort to me to have someone so caring responsible and secure to take care of my younger sister. He treated her with so much respect and dignity. The person he got to help me is invaluable. Billy is truly a genuine caring honest warm trustworthy person.He is cheerful and always puts my mind at ease. Just want to say Thank you Billy, you have not only made my sister have a better life you have also made mine. You are a guardian Angel!"
Charles Gueli
"Bill, I'm writing to thank you for the help you have been providing to my Mom. The girls you send are very helpful and congenial and Mom enjoys their company. The companions are very caring and go out of their way to make sure Mom has what she needs. We couldn't be happier."
Monsignor Thomas Mulvanerty, Vicar for Senior Priests, Diocese of Rockville Centre
"My ministry in the Catholic Diocese of Rockville Centre relates to our senior, retired priests. It is my responsibility to ensure for their care in their aging years. I have come to appreciate what it is to be in need of companion care for these venerable priests. Their health needs often warrant care in an environment where they feel safe and comfortable. I am indebted to Billy Alba and his agency: 'Home Comfort Assistance.' With remarkable efficiency and compassion, he manages to place some very reputable companions to the benefit of all. I appreciate his gentle, caring manner and the onsite supervision that he provides."
Jack Lenze
"My wife was admitted to the hospital due to an illness. At the end of her hospital, stay we were advised that because she had not fully recovered and had Dementia, the best option was to place her in an Assisted Living facility where she could age. After 1 month and $16,000 dollars later, she was worse off than when she entered. She was not living but merely existing. At that pace financially it was going to be unsustainable. I really wanted her home with care so I could be there. I knew when she realized she was home, she would do better. My niece, who is an RN, recommended that I call Home Comfort Assistance, a home care company that she had recommended before with excellent reviews. When Billy arrived to assess the situation, he assured us that with placement of his companies companions and active family intervention, she would be able to finally come home and age in the comfort of our home. She is now home with her family and a companion. The companion is now living with us 24 hours a day and 7 days a week at a fraction of the cost the facility charged. Also let it be known that these facilities require 30 days notice if you want your loved one discharged. When we made the decision to bring her home, we had to wait for another 30 days until her release. Thank God for Home Comfort Assistance and Billy's oversight, my wife is now home with the dignity she deserves. I can't thank and recommend Billy and his company enough!"
D. Blutter, Esq.
"My partner and I are attorneys who often have to help those of our clients with elder care issues, including questions regarding assistance at home. We have known Billy Alba for many years, and knew of his great compassion and knowledge about the needs of the elderly; we therefore had no doubts about recommending his company, Home Comfort Assistance for an elderly client whose health issues required a home care companion twenty-four hours a day, seven days a week.
Billy Alba sent over a home care companion who has been a wonderful caring companion for my client. This woman converses with my client, cooks her meals and assists her with her eating. This companion keeps my client's rooms clean and neat and makes sure my client takes her prescribed medications. She appreciates my client's musical abilities and helps my client bathe and dress and attends to my client's personal bathroom needs.
My client feels loved and knows that this companion really cares for her. This companion demonstrates great compassion and respect toward my client. She is a true professional; my client and her family are very pleased and gratified to have this companion helping my client through difficult times. Additionally, when this companion requires a day off, there is a seamless change of personnel with a regular substitute companion always there to care for my client; this substitute gives my client the same care and love as the primary care companion.
Without Billy Alba, my client's life would have been very difficult and unhappy. My client is very elderly and Billy Alba and his home companions have ensured that my client's last years will be peaceful and safe and she will always be respected and loved."
Denise Ficalora
"THANK YOU VERY MUCH. I feel so much better knowing you are there. I know my mom will be well cared for with your help and assistance. With heartfelt gratitude and love, Denise."
Maryann Costa
"Having experienced the excellent care given by one of Billy's caregivers, I can only say 'thank you' from the bottom of my heart. The licensed nursing assistant who tended to my husband's needs after colon cancer surgery was beyond my expectations.She was a wonderful, capable, compassionate individual who gave so much more than what was required thereby making me feel better about leaving him. He was in good hands.
Billy carefully chooses his caregivers, treats them well, and is in constant touch with them during their time with the patient. Billy himself has so much medical knowledge that he was able to put me at ease and lend comfort to members of my family.Our caregiver was received so well by the hospital staff and was granted many privileges to make my husband comfortable as he was bedridden for 2 full weeks.
It is without any reservation that I recommend Home Comfort Assistance and Billy Alba to anyone in need of care at home or in the hospital."
Janet Nix
"I was so fortunate to have been referred to Billy Alba by my friend Brian. I was taking care of my Aunt along with an hour and a half of a hospice home aide per weekday morning. As of Christmas Evening, my Aunts condition quickly deteriorated to the point that I could not handle her care alone. I called many agencies hoping to get a full time home aide starting on the weekend. I also live in Oak Beach, a barrier beach off the ocean parkway which is not near any public transportation. None of the agencies I called could find anyone for me. My husband was willing to drive into Babylon to pick a home aide up at the train if necessary if we could not find an aide that could drive. My friend suggested I call Billy Alba of Home Comfort Assistance. He assured me he could find someone that would be experienced and that could drive. Being that it was during Christmas week it may not happen until next weekend but he said that he would try his best. Billy called me back that evening to say that a woman named Julie would be coming by on Sunday morning. I felt that an angel from heaven knocked on my door. Julie was so kind, sympathetic, caring, gentle, and extremely skilled in home care. I felt that a huge weight was lifted. She was able to come every day to assist us and when my Aunt Jane passed away early today January 1, 2015 Julie prepared her with clothing I picked out, got her cleaned up, fixed her hair, and put on some makeup. She anticipated my Aunt passing soon and took the initiative to wash her hair and even do her nails the day before. She stayed with my family until the Funeral Director came for her. I can't tell you how much relief she supplied in just 5 days. She felt like family so quickly. Thank you Billy for all your support and kind words and answering your cell phone on off hours. We are all very grateful for sending Julie to us. Thank you, God Bless, and Happy New Year."
Shannon O'Lear-Betz
"WOW! First Impressions! Well not really 'first'. Billy and I know one another for over 40 years. We hadn't been connected for quite some time but about a year ago we spoke about a common interest…Art. That was a prelude to the present. Billy and his staff are a PRESENT. My Mom recently fell and fractured her wrist. Now casted above her elbow, basic daily activities and hygiene became difficult to say the very least. After one phone call to Billy, we had a plan in place. Yesterday we all met : Mom, Dad, my sister, my brother-in-law, me, Billy and our "present", the companion assigned to Mom, Sherece. I cant express the level of comfort that I have knowing my Mom has someone warm and capable to help her until she passes this hurdle. We instantly had a "good feeling' and a sense of relief. Back to my "first impression"…this is going to work out well!"
Toni R. Sciremammano
"Cannot tell you how incredible a service Home Comfort Assistance is. Billy Alba is meticulous in choosing caretakers for my ailing father. He listens and delivers wonderful caretaking service with such love and character he has made an extremely difficult road, smooth and loving and extremely reliable at the drop of a hat!!! I cannot thank you Billy for all that you do!!! I will highly recommend Home Comfort Assistance to all due to Billy's personal caring touch!!!! We Love you!!!"
Amy Bochner
"I was referred to Bill Alba by my good friend Theresa which turned out to be a great recommendation. My mom and dad both need 24 hour care. It was difficult to find the right people to take care of my mom as she is wheel chair bound and uses a stand assist lift. I emailed Billy to explain our situation and issues to find the a caring, experienced person, it was a lengthy email… He called me and instantly I knew he really read my email carefully, listened and understood my needs. He told me he would take the time to find the right person… As promised Billy found two experienced caretakers that were great. When we needed relievers he communicated with me well in advance and always kept in touch and listened to any issues that arose. He handled everything professionally and promptly. He visited my parents house several times to make sure everything was in order and that my parents were happy. I fully recommend Billy Alba to care for your loved ones."
Aimee Nosomowitz
"I called Billy at a very low time in my life. My completely independent 81 year old mom became totally dependent over night she needed 24/7 help. She was always promised she could stay in her own home & got very upset if I brought up moving her out. It wasn't worth it. So I called first place I thought of her temple to get recommendation for agency. First mistake. 2 woman 1 ok other 22 year old evil child didn't like her job.
Then I meet someone on a bad day & she told me about Billy & his agency. Well I called & my life changed for the better just speaking to him. I told him to sign us up right away. Within 2 weeks we had Cynthia living with mom & what a beautiful person she is. They are friends & she takes such amazing care of mom. They go walking or food shopping & out to the diner for lunch on Tuesdays.
Mom is starting to live again. By the way the first day she moved in she brought a cake for dessert that she baked for their first dinner together. I cried tears of happiness that night & have not had 1 bad day since.
Thank you Billy from the bottom of my heart for giving me piece of mind that mom is being well cared for & loved."
Teddy Toomey
"The decision to bring somebody in to help me care for my disabled husband was not an easy one. Someone recommended Home Comfort Assistance, Inc..
My husband and I were both very stressed but William Alba met with us and eleviated some of our stress.
He sent us a health care worker, Nadira, who is very helpful and most of all caring. The first day we met Nadira we knew she was a perfect fit for us.We thank God everyday for her smiling face, sense of humor and caring nature. I am able to leave the house knowing my husband is in very capable hands.
I am thankful for the the person who told me to call Home Comfort Assistance, Inc and I would recommend them to any one who asked me if I knew where they could get reliable, caring help for a loved one.
Thank you Home Comfort Assistance."
Jennifer Eulo
"I would like to give a shout out to Billy Alba and the wonderful care he provides through his company Home Comfort Assistance. I just received a phone call from a patient of mine that I handed Billy's card to last year. Well, apparently she's been using his company for her mom for several months and couldn't be happier. Her only complaint was not calling him first and making the mistake of dealing with many unqualified and untrustworthy people. She went on and on about how much stress has been lifted from her since Billy's people are helping her mom. Her mom is very happy also! Thank you Billy! It made me feel good that I could help in some small way.
Keep doing what you're doing Billy Alba!Ok, all done Billy…"
Patti Kole
"Home Comfort Assistance = LOVE and Billy Alba is a gift from G-d. His caring and understanding of both the physical limitations and emotional aspects of caring for an aging parent is palpable and his kind heart easily put all our family members at ease during what was a difficult and uncertain time. He just "get's it"!
I was introduced to Billy by a former colleague and friend and from our first phone conversation, I knew that this was the company I wanted to work with as I searched to find a companion for my mom who was in rehab recovering from her 2nd broken hip. She was adamant about being independent (of course!) but my family knew she needed the help and we were blessed with a kind, loving and respectful companion who has become like a family member to all of us. Trust me when I say that people like this are hard to find. And Billy has done just that – found the angels who care!
Home Comfort Assistance – it says it all in the title. I strongly recommend Billy and his wonderful compassionate, caregiving company to all who may need home care services"
Moira Clinton
"When my Aunt had a stroke last December, the decision to relocate her back to NY and live with my family was an important one and one not taken lightly. She couldn't speak, had mobility issues, but was fiercely independent. Once out of rehab, I knew we needed help with her care and but we weren't sure how many hours would be needed and who be the right fit in my house. Billy came recommended through a friend and I'm so glad we hired Home Comfort Assistance. Billy worked with me to find just the right person for my Aunt. Ivy is loving, kind, helpful around the house, and loves to cook for my Aunt. She heard my wish list for a happy household and makes it happen each day. She tries to find new things to do to please my Aunt. This gives me peace of mind while I work and makes it enjoyable to have my Aunt live here. I know I can call Billy for any reason. I know he will listen to my concerns. For this and his wonderful aides, I am grateful. I highly recommend Home Comfort Assistance."
Cindy George
"Home Comfort Assistance has been a god sent to me for the past year. Billy Alba is a wonderful, kind and thoughtful person. My aunt has dementia with major behavioral disturbances and is sometimes difficult to handle. For the past year she has been able to stay in her own home because of caring 24/7 caretakers. Whenever there was an issue due to my aunt's outburst a new caretaker would be provided without any delays. Each caretaker was extremely dedicated and caring even on the most difficult of days. I cannot say enough about all those wonderful people. It was not an easy job for them but they truly cared. Billy was always helpful and reassuring when issues would arise due to my aunt's condition. He worked with me trying to find what would work with my aunt the best. People staying for weeks or having people alternate weeks. He was always upbeat and positive. Unfortunately, my aunt had to be placed in a home this week but I am so very grateful she was able to stay in her home for this past year. It was all because of these wonderful people who cared for her and Billy's dedication to help in any way he could. I have nothing but praise for this agency, you could not ask for more loving, caring people. Thank you all , much love to all of you."
The Rev. E. Clare Nesmith, Priest-in-Charge, Christ Church, Babylon
"My mother and I were blessed to find Billy Alba and Home Comfort Assistance through a friend who had needed an aide following an automobile accident. My friend complemented Billy and the service she received to the heavens! So, when I needed a daytime companion to stay with my mother, I called him first. Billy brought Peggy to us about 10 months ago. She is a saint and an angel and has a terrific personality! My mother enjoys her company; they laugh, talk about life, about the news, about the things my mother is reading. She keeps her on a schedule, with a routine, and has made a tremendous difference in her life. Peggy is dependable, efficient, and faithful, and since I don't worry about things at home , it allows me to better fulfill my work. Thank you, Billy. Thank you for listening to our particular needs and finding just the perfect companion!"
Dr. John R. DiMartino, MD
"I have been a Physician for 32 years.I have referred a multitude of patients to Home Comfort Assistance Inc.I have received only positive feedback from my patients I referred.Recently I called Billy to help care for my own Mother. Billy and his Home Health Aides were warm.friendly and so knowledgeable.They did an unbelievable job as she passed with compassion and dignity and my entire family thanks them. Home Comfort Assistance is truly a Doctor recommended Elder Care Company."
Kathy Kolensy
"Billy's Home Comfort Assistance was one of the agencies recommended by Dominican Village in Amityville where my Mom lives. At the time I reached out to Billy, my Mom was in need of some assistance at night. Billy was able to provide an Aide the next day. He was truly compassionate and understood my family's concerns because of his own experience with his mother which prompted him to start his business. Unfortunately, Mom had developed some complications from a previous surgery and had to be admitted to the hospital the next day. Mom was subsequently released to a rehab center, readmitted to the hospital and then transferred to a different rehab center where she was NPO (unable to eat or drink) for a month. I contacted Billy when she was in the 2nd rehab center and asked if he could have someone spend the days with her to tend to her needs and provide companionship. He was able to get an Aide there the next day. The Aide has turned out to be my Mom's guardian angel. I can't say enough about what a lovely person the Aide is and what a difference she made in my Mom's recovery. Mom was then readmitted to the hospital for more surgery which was cancelled because of the progress she had made at the rehab center. She was subsequently released from the hospital and is now back home in the Independent Living section at Dominican Village with the Aide by her side. Billy was extremely responsive and accommodating to all the unexpected twists and turns that occurred over the 3 months that she was in and out of hospitals and rehab centers. He gave me and my family a tremendous sense of comfort and assurance that she was getting the assistance she needed. I would recommend Billy's Home Comfort Assistance to anyone who is looking for an Aide to look after their loved one. He truly goes the extra mile and is a caring individual who firmly believes in the services his company provides."
The Brown Family, Rockville Centre, NY
"Billy Alba's Home Comfort Assistance has been a blessing to my family. Billy is extremely knowledgable of the needs and requirements for effective and compassionate home care assistance. He takes the time to answer all questions and provides insight into what to anticipate as my mothers dementia progresses. He has also advised me of what benefits are available through Medicare, as well as, through local community services. Originally, I needed Billy to provide an aide to assist my mother three hours a day. When my mother suddenly required a live-in aide, he made that happen at a moment's notice. Both aides are competent, and they established, almost instantly, a good relationship with my Mom. This has me given peace of mind, knowing that my mother is being well taken care of. I recommend Billy Alba and Home Comfort Assistance to anyone who is looking for compassionate home care assistance for a loved one."
Lorraine, Massapequa Park, NY
"Home Comfort is a wonderful agency which I am using for my 88 year old Mom. Billy, the owner is easy to talk to and always available for questions or concerns. There is a peace of mind knowing they are considerate, thoughtful and professional. They have made this transition easier to deal with. I highly recommend them."
Nancy Brown, Massapequa, NY
"I am writing to thank you for the amazing care you provided my mother Joan Petrie during the last year. Both Grace and Linda were such nurturing and loving women that she left this life with peace and love around her. I would recommend these ladies to anyone's parent and know they were being well cared for."
Kim Gallagher
"We initially contacted Home Comfort Assistance because my mom needed help caring for my dad. Billy came over very soon after our initial telephone conversation to talk about his service and to meet our family. Within a few days we met our wonderful aide and could not have been happier. She was outstanding and one of the most caring individuals We have ever met. While the aide was with us, both my parents unfortunately fell ill. Since none of my parents family members live in New York we all flew back and forth caring for mom and dad. During this time the only constant was our aide. Without Billy's support and her assistance we absolutely could not have gotten through a multitude of crises. In the end we eventually had to move our parents across country to be closer to family. However we will never forget our aides loving kindness to not only my parents but to all of us. We highly recommend Billy and his company Home Comfort Assistance."
Pat & Don E., Malverne, NY
"Home Comfort Assistance and its owner Billy was the answer to our prayers. We were looking for round the clock home care for our two elderly moms. We had heard our friends' stories about the difficulties of having different shifts of workers coming into the house each day to care for an elderly parent. HCA offered a different approach which is round the clock care from the same individual 24 hours per day, 7 days per week. HCA has allowed our moms to remain in their respective homes. Over the course of 4 years now, HCA has provided us with caring, dependable and trustworthy aides for our moms. We no longer have to worry that mom will not be able to find the Life Alert button in the event of a fall in the middle of the night going to the bathroom or that mom will be lonely. The one-on-one and immediate care available from HCA is, for our moms, so much better than the alternative of assisted living, where they would have to wait for an aide to respond to a call light for all their needs. We highly recommend Billy and HCA!"
Louis T., Massapequa, NY
"I want to send my heartfelt thank you to Home Comfort Assistance and Billy. My family and I were frantic after My 92 year old mother fell broke her hip and split her head open. She spent nearly 30 days in a rehabilitation facility. I heard of Billy and Home Care assistance through several people. After speaking to many different services we decided HCA fit out family's needs. My mom wanted desperately to go home. HCA allowed my Mom to go home to familiar surroundings. We feel they sent us an angel (Shantee) she is kind caring and pays close attention to my Mother. My mother would always object to someone staying with her but to our surprise has been very comfortable with the aide Billy sent. We can't thank you enough for your services and Shantee our newly found angel. Billy was professional and answered all our questions. My Mom was not up and walking but only after a few short days she is walking with a walker and her angel. I send you all our blessings for providing someone so special and for being a light in the time of darkness. We rest easier knowing Mom is in caring hands."
(Visited 2,685 times, 1 visits today)